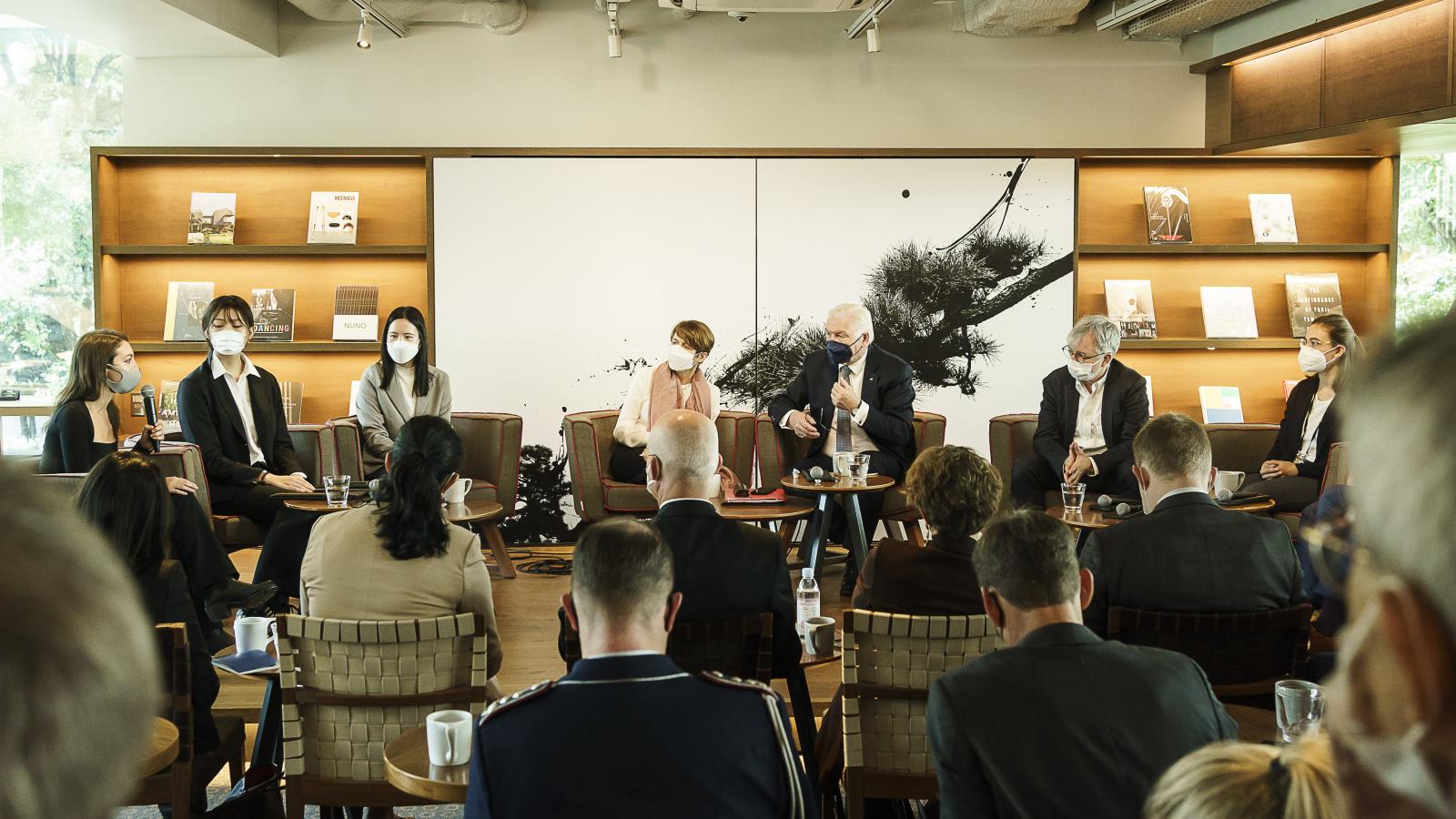 "Verstehen Sie Spaß?" ["Can you take a joke?"]
This was the question I was longing to hear. When hearing the offer on the phone, during preparation, on the train towards Berlin, on my way to the airport.

But it was not voiced.

And before I could truly realize what happened to me, the plane landed in Japan. I blinked a couple of times and pinched myself to make sure: this was no dream. I was awake and here. In another country, eight hours apart from my regular schedule, and almost two and a half years after the Covid-19 pandemic started. I appeared too good to be true.

But one step after the other. You could still explain the most beautiful dream of all with realistic devices without having to have a PhD in psychology.

This adventure started with the (digital) 'Austauschprogramm für junge Ehrenamtliche' [exchange program for young voluntary workers] by the Japanese-German Center Berlin (JDZB) in September 2022. Within the course of a single week, voluntary workers between the age of 18 and 26 from Germany and Japan met up via Zoom to exchange their experiences in their areas of voluntary work. This included discussion about the challenges and rewards those areas brought with them. Rendering the restrictions on travelling indifferent, about 35 voluntary workers got together and got to know German as well as Japanese voluntary institutions (digitally, of course). For sure, there was always time to get to know each other, simply due to our common ground: our fascination for German or Japanese culture, respectively, and our passion for the voluntary work we were doing.

Since the JDZB functions as the intersection between both cultures and serves to promote the bilateral friendship, it was contacted by the Office of the Federal President and asked to propose a couple of people participating in the exchange program for the Federal President's official visit to Japan and South Korea. It was their wish to represent German voluntary work through a voluntary worker in person with affiliations to Japan.

(And yes, this proposal might be a lot to take in. Take your time – it took me almost two weeks to digest it.)

The people made fun of in the German TV series Verstehen Sie Spaß? (["Can you Take a Joke?]) usually do not know why they are selected to be the victim of harmless but excessive fooling. I could not help but sympathizing with them after the JDZB asked me whether I would be open to their forwarding recommendation of myself to the Office of the Feder President. And still, close to four weeks after having accepted, I expected to arrive at the airport and meet Guido CANTZ, the show master, telling me about this horrendous joke soon to be aired. But since I did not get to meet him, I was forced to believe that this journey would take place for real.

Two countries (Japan and South Korea), four cities (Tōkyō, Kyōto, Seoul, and Busan), five days (Tuesday through Saturday). I had to eliminate the words 'holiday' and 'rest' for a week.
Tuesday, 1. November 2022: Tōkyō I
It was everything but a boring schedule: each step of the journey was minutely planned in advance and got dissected in a guidebook of roughly 230 pages, including timetables, information about the countries and sights, and references, who is supposed to be attending which event with whom. The most important rule: Federal President Frank-Walter STEINMEIER and his wife Mrs Elke BÜDENBENDER do not wait for anyone. Everyone who is not present at the time of departure has to make sure to get to the next location on their own. (Spoiler alert: We did not lose or miss anyone, everyone got back to Germany safe and sound.)

Not every member of the delegation needed to be present at every economic or political event, of which there were numerous. Besides, not everyone might have had a thorough interest or expertise in the topics discussed there. Mrs BÜDENBENDER even received her own program occasionally. Thanks to a great organization, I was allowed to join her program on two occasions (once in Tōkyō, once in Seoul). Mrs BÜDENBENDER's schedule focused less on political and more on social topics that concerned the individual countries.

Her first appointment in Japan takes place at the DAWN Avatar Robot Café, whose service members are robots, which in turn are controlled remotely by people all across Japan. Of course, this concept is not an open-access program; the people behind the robotic voices cannot work at the coffee shop personally for reasons of physical, psychological, or geographical origin. On Instagram this visit was fittingly titled "Inklusion in der Arbeitswelt" (["Inclusion in the World of Working"]).
Wednesday, 2. November 2022: Tōkyō II
Luckily, I did not have to represent the German voluntary work all on my own. Since the state visit was planned to focus on two countries, the Office of the Federal President prepared to be joined by two young volunteers – one with an affiliation to Japan, the other with affiliation to South Korea. In each country a discussion was organised between local young people and Mr STEINMEIER and Mrs BÜDENBENDER. Mr Oscar FREYER represented the Deutsch-Koreanische Gesellschaft e.V. ([German-Korean Association]) and I represented the JDZB. The two of us were asked to participate in those discussions with our experience in our respective voluntary work and we were also encouraged to pose questions.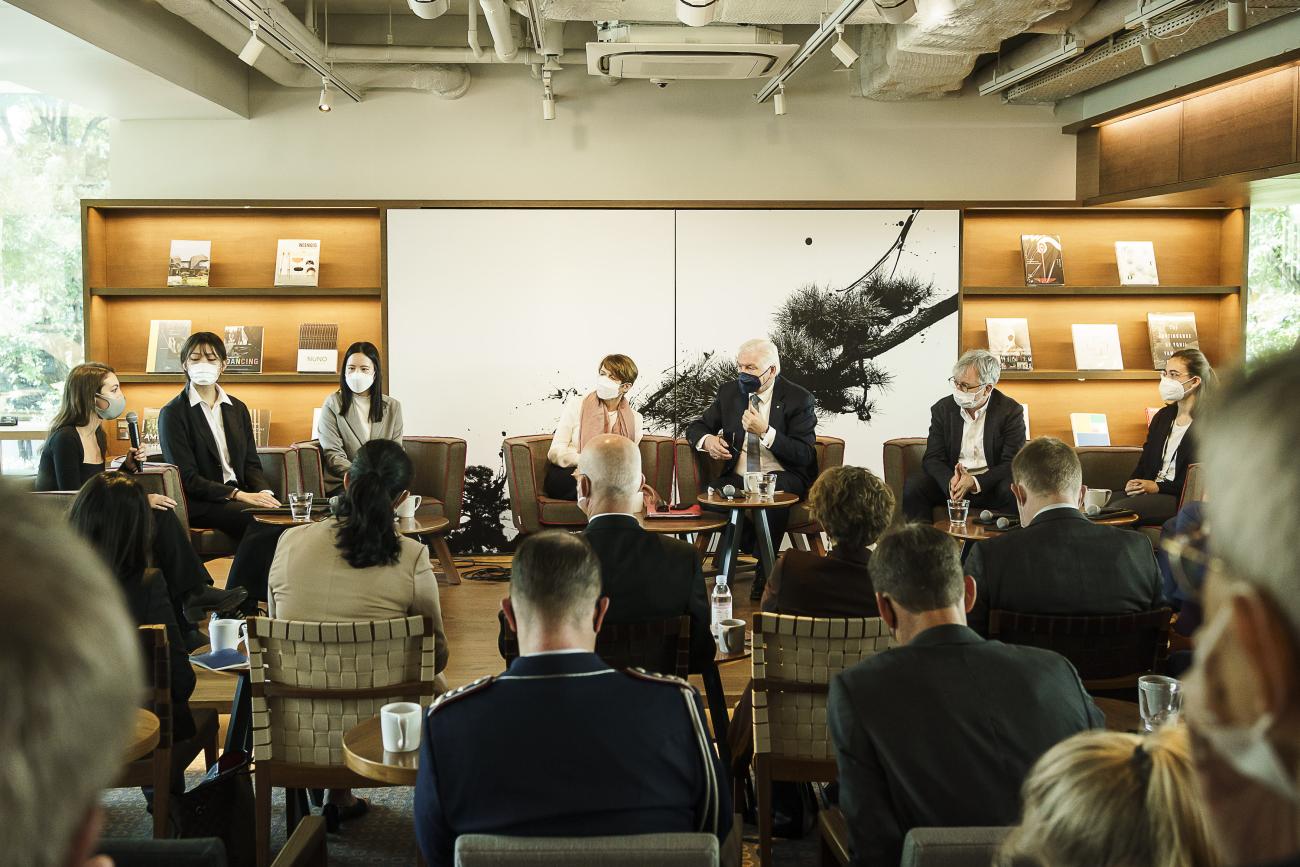 As location for the discussion in Tōkyō the organizing team chose Tsutaya Books Daikanyama T-Site, which functions as book shop and coffee shop simultaneously. Professor Franz WALDENBERGER from the Deutsches Institut für Japanstudien ([German Institute for Japanese Studies]) in Tōkyō opened the discussion with a round of introductions. Our Japanese discussion partners were three female voluntary workers, one of them also a participant in the same exchange program I partook in at the JDZB only two months ago (isn't it a world of coincidences?!).

Our thematic focus was intended to be the status of volunteering in society. One hour of discussion time is not nearly enough time to stir a wide-ranging argument; but, nevertheless, it is more than enough time to discover a lot of similarities in both the German and Japanese social structures and to gain an impression of how volunteering is perceived by society in general terms. Without commenting on them, here are some examples from our exchange: "'The youth' doesn't do anything useful nowadays"; "Where are the role models for young voluntary workers?"; "Time pressure"; "Academic achievements should come before self-actualization"; "Voluntary Work: Only a waste of time?"; "Personal development"; "International friendships"; "Language skills"; "Sense of Belonging".

Two aspects concerning this discussion will need to be commented, I guess, from a restrospective point of view. First, Mr STEINMEIER and Mrs BÜDENBENDER displayed great sensibility for the underlying experiences of our statements and did not only ask actively in cases of possible misunderstandings, but also requested us to share our perspective and opinion on what exactly politics (and politicians) could do to make voluntary work more attractive. Second, a week after this discussion one of our Japanese discussion partners and I realized to have worked together five years ago in Germany in the context of another German-Japanese exchange program – isn't voluntary work international?
Friday, 4. November 2022: Seoul
The second scheduled discussion among young people took place in Seoul. This time our focus was on the current situation of the upcoming generation and the demographic challenges we all have to face, regardless of either nationality. I say 'young people' were present at this point, they were not necessarily volunteers. But this was not the point on this day: there loomed a shadow above our discussion, around 150 people died on the streets of Seoul on 31 October during a Halloween party.

Taking compassion was the first action, the eyes of our Korean discussion partners filled with tears. Neither of the four present people knew a victim personally; and still I vividly remember one silent utterance: "They were my age." My insides twisted uncomfortably at this prompt, and I would have loved to wrap my arms around the person closest to me – unless our obligatory masks reminded us of the regulations about keeping our distance from each other. Before our departure in Germany, I would not have expected events on the other side of the world to affect me in this emotional manner. But being near the place of the accident I have to admit that there was no border of newspaper or television screens separating me from 'them.' If Christmas is the festival of charity and empathy, then Christmas came around early for me this year.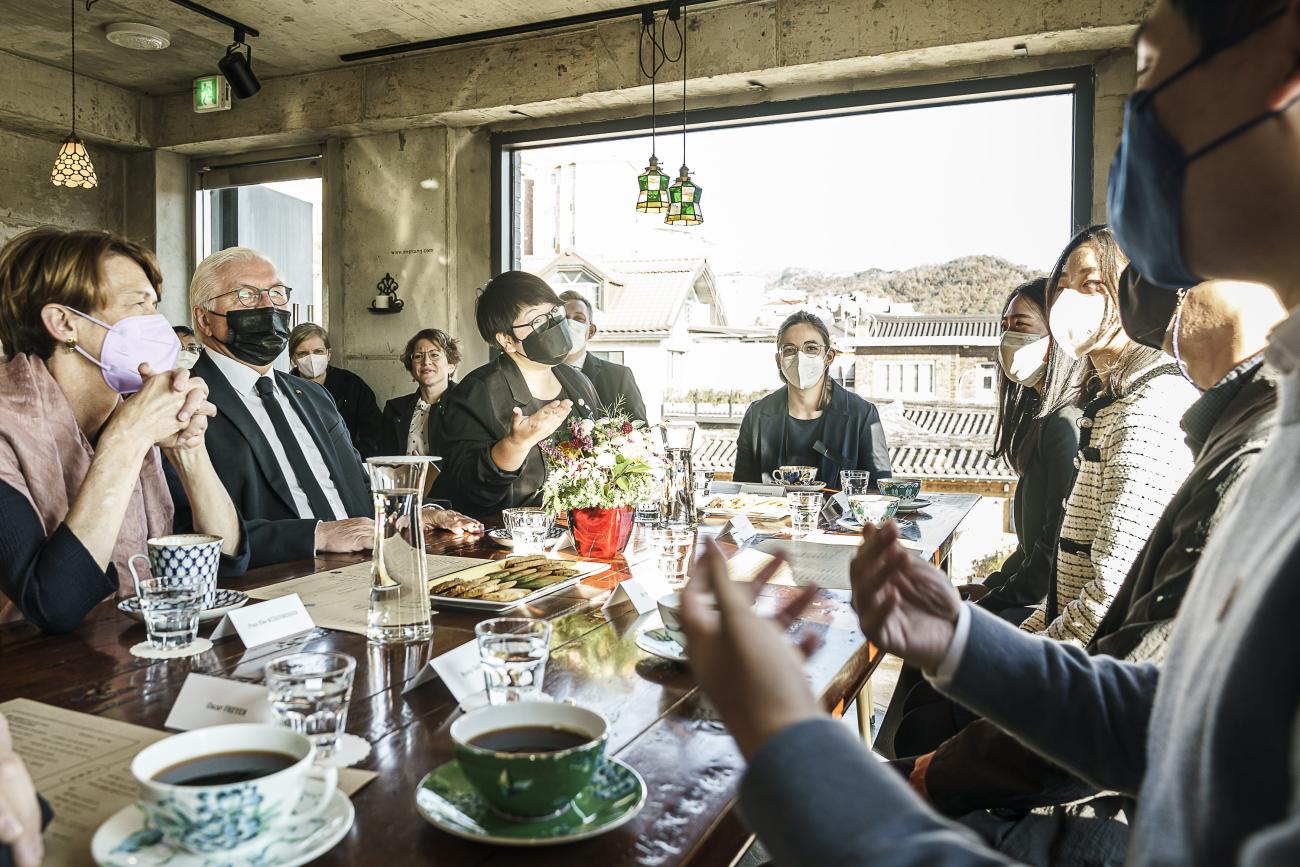 Our discussion rapidly turned towards the challenges of our generation. The only area we avoided largely was the progressing climate change (Thursday in Kyōto and Saturday in Busan were largely dedicated to this field and its connected actions, this is why a whole group of climate researchers accompanied the Federal President's delegation). We pin-pointed our tremendously fast-paced societies, the ever-changing change of (gender) roles, and the frighteningly decreasing birth rate in South Korea. While in Germany a woman may return to her job after having been on maternal leave, such a position will be reassigned in South Korea – without legal claim on behalf of the former (female) employee. This is why a woman's future often focuses on the care for their family, the support for and by their spouses, and the raising of their children. Pursuing a professional career is a dream to most women, a reality to few. Last but not least, the financial reward serves often as basis for the decision of who will stay home, husband or wife. One of our female discussion partners attested what becomes increasingly significant in Germany, too: she would love to pursue a professional career and to build up her independency; and under the current circumstances, this will only be possible without founding a family, no matter how much she would like to have both.

A little glimpse of hope regarding emancipation manifested in this afternoon's appointment for Mrs BÜDENBENDER: she met with representatives of the Ewha Womans University to discuss the situation of women across South Korea. The Ewha Womans University is unique in South Korea: only women are allowed to study there, only a couple of lecturers are men. In the context of an exchange semester male students are allowed to visit the university, but they are not qualified to achieve any academic degree there. Mrs BÜDENBENDER drew extensively from her experience of being a judge and a mother simultaneously, talked freely about the diversity of being a 'Working Mom,' and did not shy away from addressing the attached problems and challenges. The university's representatives addressed the difficult political situation (especially for women) and the different wage systems for men and women. (Fun fact: The two male representatives kept notably silent during the discussion…)
What did I forget to mention…
Oh right, Federal President STEINMEIER was also on this (actually, his) state visit. Looking back, one of the most frequently asked questions I got asked was how I thought of him. By now I must honestly say: "I haven't seen him much. He had his own program including a lot of political discussion partners and a couple of confidential meetings; it would have been nothing but strange for me to join him then. I had a chance to speak to Mr STEINMEIER during our official discussions, else there was neither time nor possibility for a long-ranging conversation."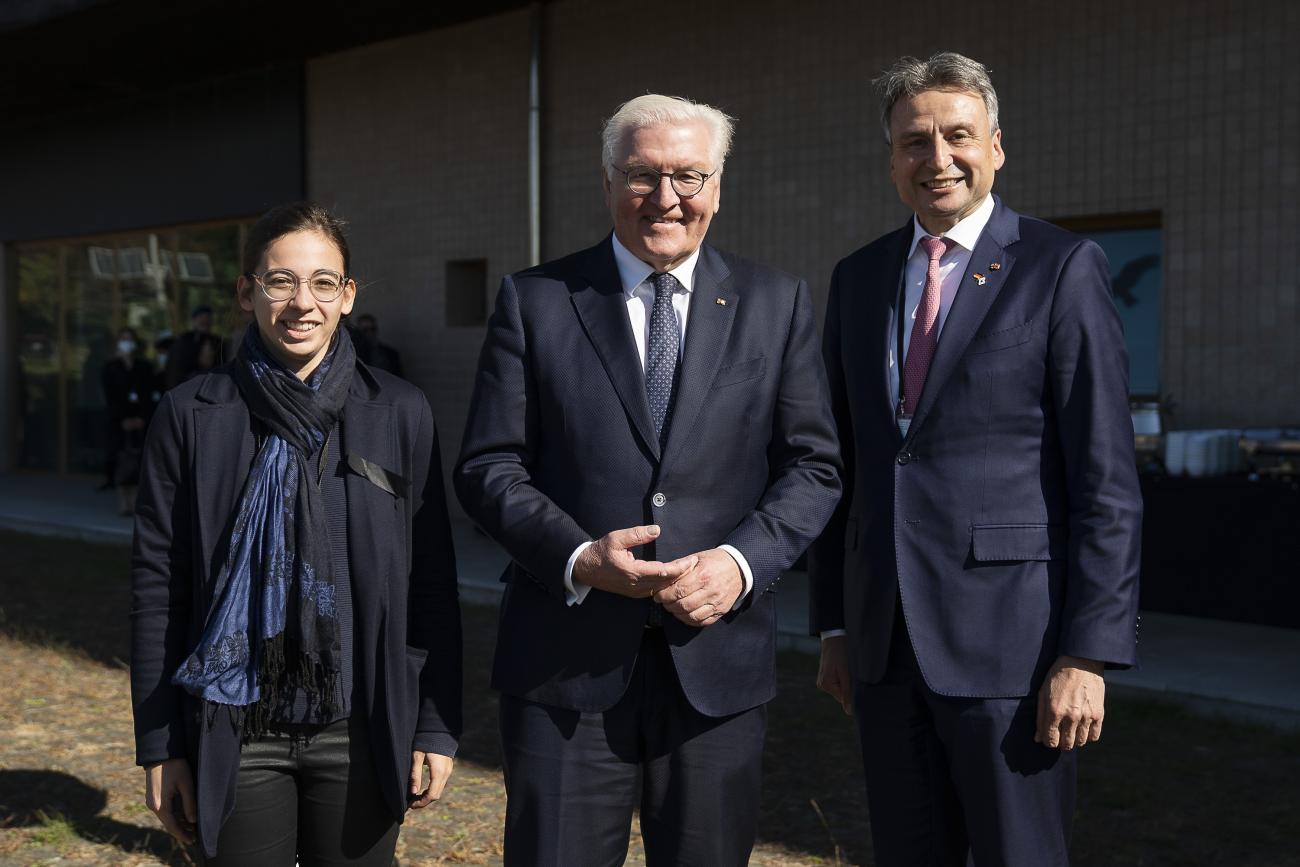 Before going on this journey I looked up Mr STEINMEIER and Mrs BÜDENBENDER on the Internet (one of the most comfortable ways to get to know people you are not personally acquainted with). On Wikipedia I read that they have a 26-year-old daughter. The word that came to my mind was "sympathetic."

And after the journey ended? The two of them are still very pleasant personalities, if I do not think even higher of them. There was not a moment of thinking them to put on a show when inviting young people to join them on their state visits, they were genuinely interested in our opinions. Their honest, open-minded interest and their down-to-earth nature convinced me of their honesty – not the latest news by the media, which might tend to take statements out of context and twist them around for the sake of sensationalism.

Context is a great cue for a final remark: Federal President STEINMEIER foregrounds the necessity for volunteering in Germany for a certain period of time. Out of context, this commitment might seem to point towards a re-introduction of civilian service; but it is not because every age group is addressed to contribute to a sense of community across the nation. Volunteering is easier than one might think and sometimes it guides one unexpectantly to Japan and South Korea.
*The author was a participant in the German-Japanese Exchange Program for Youth Volunteers 2022 on the annual theme "Social Participation of Young People," which is funded by the German Federal Ministry for Family Affairs, Senior Citizens, Women and Youth and the Japanese Ministry of Education, Culture, Sports, Science and Technology. On the German side, the Japanese-German Center Berlin is responsible for program implementation; on the Japanese side for 2022, the National Institution for Youth Education. Due to the COVID-19 pandemic, the above exchange program in 2022 was conducted in online format.