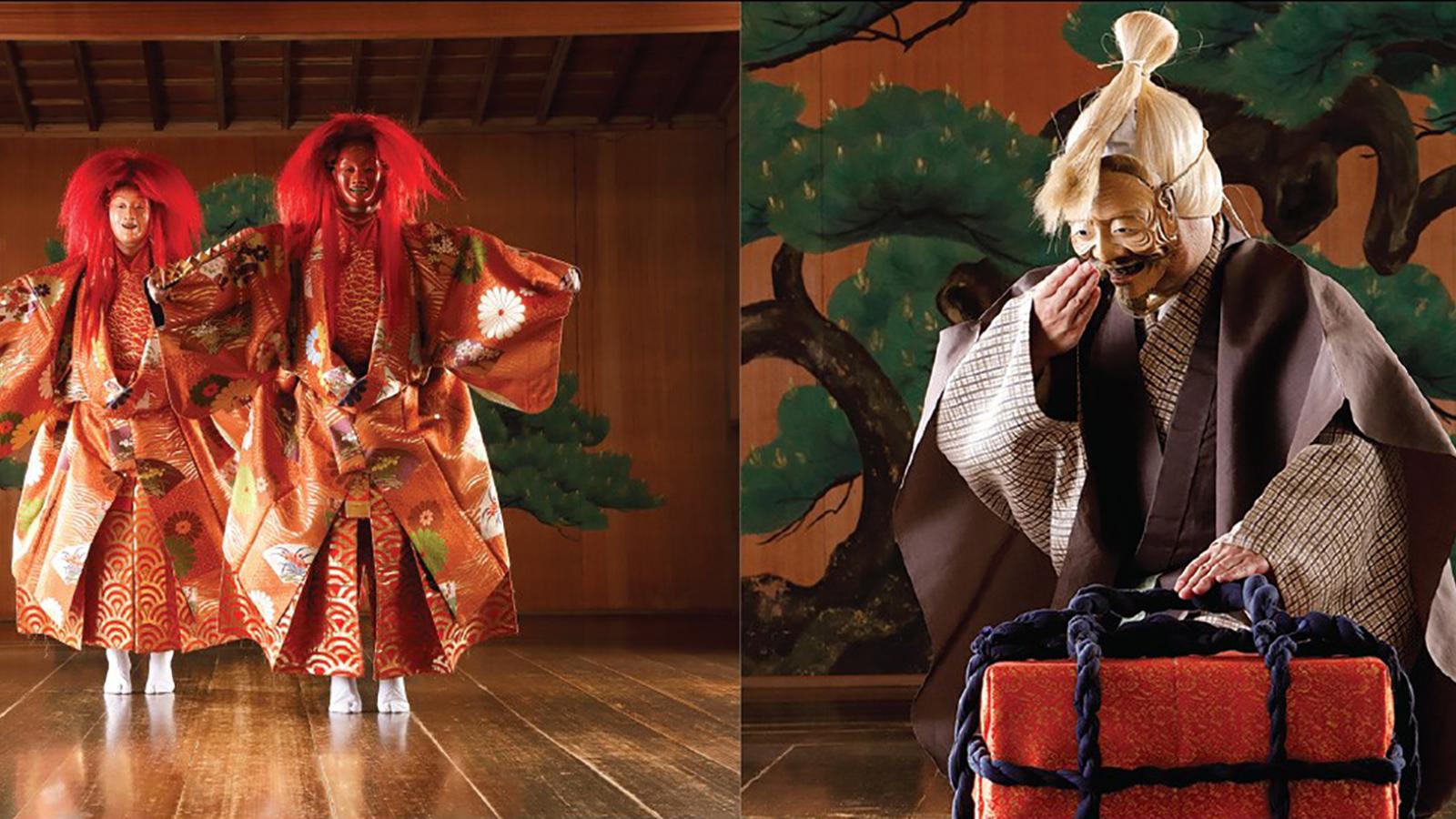 Japanese Nō and Kyōgen Theater
Tuesday, 3 September 2019 at 7 pm, Philharmonie Berlin
Introduction at 5.30 pm in the south foyer of the Philharmonie!
Nō is the traditional form of Japanese theater, created more than 600 years ago in the early 15th century and developed by Zeami Motokiyo (1363-1443) into a highly refined stage craft, with drama and dance, dramatic poetry and poetry, song and instrumental playing merged in a synthesis. The last time Nō Theater was performed in Berlin was more than eight years ago in Haus der Kulturen der Welt (House of World Cultures).
The Tōkyō Ensemble Umewaka Kennōkai, a branch of the traditional Kanze School, is one of the most well-known Nō theater ensembles in Japan today. After 20 years they are returning to Berlin, this time together with Kyōgen masters of the Izumi School. The program, consisting of festive Nō dance pieces, humorous Kyogen intermezzo and Nō drama, is rarely presented outside of Japan because of its opulent combination. This unique evening of entertainment will take place in the Berlin Philharmonie as part of the Musikfest Berlin.
Performed by
Ensemble of the Umewaka Kennōkai Foundation (Conductor: Umewaka Manzaburō III)
Program
"Shōjō – Midare: Sō no mai" (The Rice Wine Spirit), cultic Nō dance game
"Kaminari" (The Thunder God), burlesque Kyōgen Intermezzo
"Koi no omoni" (The Last of Love), dramatic Nō play
Venue
Philharmonie Berlin, großer Saal
Herbert-von-Karajan-Straße 1
10785 Berlin
Tickets
€ 10-40 (including taxes and fees) at Musikfest Berlin
Further information at Musikfest Berlin
The performance is a guest performance of a European Tour 2019 (Zurich – Basel – Cologne - Berlin) to celebrate the 50th anniversary of the establishment of the Japanese Cultural Institute Cologne and
Twenty-five years' sister city partnership Tōkyō - Berlin.
An event of the Berliner Festspiele / Musikfest Berlin and The Japan Foundation / Japanese Cultural Institute Cologne in cooperation with the Japanese-German Center Berlin
Information
Photos from above
Nō Play Shōjō with UMEWAKA Hisaki and UMEWAKA Norinaga 1994, 2002 © Maejima Photo Studio (Tōkyō)
Kyōgen Play Kaminari with OKUTSU Kentarō 2019 © OKUTSU Kentarō
Nō Play Koi-no-Omoni with UMEWAKA Manzaburō III 1979, 2019 © Maejima Photo Studio (Tōkyō)
Registration
JAPANISCHES NŌ-THEATER IN DER BERLINER PHILHARMONIE
von Felicitas Blanck, freie Journalistin